EDIT MAIN
Announcements

THERE WILL BE NO TUTORING BUS TODAY, MONDAY, MARCH 18TH AND TOMORROW, TUESDAY, MARCH 19TH.
PARENT/TEACHER CONFERENCES
PARENT/ TEACHER CONFERENCES WILL BE HELD ON MONDAY, MARCH 18TH AND TUESDAY, MARCH 19TH FROM 3:30 - 6:30 PM.

SPRING INTO NEXT YEAR
Aurora R8 School District is excited to offer a "Spring Into Next School Year" event that will be held Wednesday April 24, 2019 from 5:30pm-8:30pm at the Aurora High School. Parents, PLEASE take advantage of this opportunity to get your student's sports physical, dental checkup, and required immunizations completed!
The Meningococcal Vaccine is required for ALL incoming 12th graders. This is in compliance with the State of Missouri requirements and the Aurora School Board policy. Proof of this vaccine MUST be turned in to the High School Nurse by the first day of the 2018-2019 school year.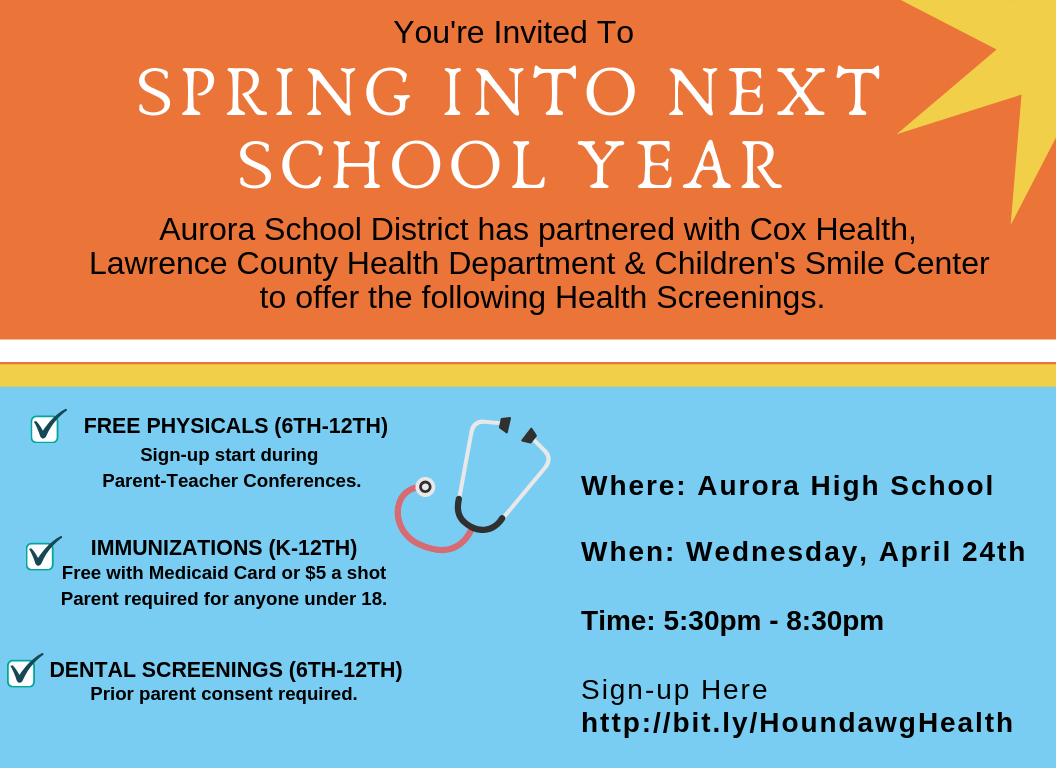 scheduling for 2019/2020
On Monday, March 18 the counselors will meet with all Juniors at 8:00 in the Commons Area to start the pre scheduling process. We will meet with the Sophomores that same day during home room.
On Tuesday, March 19 we will meet with the Freshmen during home room.
We will meet with students and parents individually during parent teacher conferences those nights as well to answer questions about scheduling and the opportunities available. Additionally, representatives from Go Caps and SRTC will be here to discuss the opportunities that these programs provide. Also, a representative from Crowder will be here to talk to students about the Associates Program as well as Dual Credit.
NHS
Convoy of Hope: We will volunteer at Convoy of Hope for the final time this year on Tuesday, April 16, leaving the school at 4:00 PM and returning at 9:30 PM. Please bring money to eat. If you have not attended in February or March, you will need a new permission slip. Please pick one up when you sign up in my room, 306. Sign-up by Friday, April 12, at 12:15 PM to attend.
Community Appreciation Lunch: Volunteers are needed to serve at the lunch on Friday, April 12, from 10:30 AM - 1:00 PM. Please sign-up in room 306 by Tuesday, April 2, at 3:00 PM,, only if you are guaranteed to be able work this day. Do not sign up if you have already committed to work through another club or teacher.
PROM
prom tickets are on sale every day - $10/person and $15/couple.
BUS TRANSPORTATION FOR PROM:
3/30 BUS WILL DEPART FROM THE HIGH SCHOOL AT 6:30PM AND RETURN AT 11:00PM.
IF YOU PLAN TO RIDE THE BUS PLEASE COME TO THE OFFICE TO SIGN UP.
TALENT SHOW
We are looking for local talent to appear in the 2019 Woodbutchers' Follies Talent Show at Aurora High School. The show is set to take place at 7 p.m. Thursday, April 18th. The show is sponsored by the A-Tech/Leadership/Youth Empowerment Students at Aurora High School, under the supervision of Brad Boettler, Kim McCully-Mobley and Shawn Hines.
Acts can be single or group and can cover a wide variety of genres, including: comedy, vocal music, instrumental, dance or dramatic reading performances. Awards will be given in several categories and community panel members will serve as judges for the popular event. Past winners are not eligible for competition, but a People's Choice Award will be given and all entries are eligible.
The show was a popular community/school event during the years Fred Baum taught and coached at Aurora High School in the 1960s, 1970s and 1980s. The show was revamped and returned to the local stage in 2016.
Those wanting to enter the competition or perform need to apply by Friday, March 8th, by emailing kmobley@aurorar8.org or calling 417-229-2094 and asking for an application.
This year's show will also include a dinner and a Spring Showcase of items created by local students and vendors. Area businesses, musicians, artists and writers can obtain booth space to sell their wares. All proceeds from the dinner, show and showcase will be earmarked for local scholarships, educational grants and community betterment projects.

CONGRATULATIONS TO THE FOLLOWING STUDENTS OF THE MONTH:
FRESHMAN: AARON FISHER
SOPHOMORE: DALTON HESS
Junior: JACOB WHITE
Senior: JUSTINA NAYLOR

act
Aurora will be hosting THE ACT on SATURDAY, April 13TH. The deadline to register for this testing date is COMING UP (March 8TH). The results of this test should be released in time to be considered for admission or scholarships for some institutions. You may need to take the ACT for the first time or to try to raise your score in order to obtain that admission score or scholarship requirement. IF YOU ARE INTERESTED IN EARNING YOUR ASSOCIATES DEGREE WHILE IN HIGH SCHOOL YOU NEED TO CONSIDER TAKING THE ACT TEST. Register to test at www.act.org. AURORA WILL GIVE THE TEST AGAIN IN OCTOBER BUT THERE ARE OTHER AREA OPTIONS IN JUNE AND SEPTEMBER.
Students who qualify for free or reduced lunch qualify for two free ACT tests during their high school career. Additionally, this qualifies you for a waiver for the college application fees. Ms. Traci, in the counseling office, can provide you with a waiver to cover these fees IF YOU QUALIFY.
ALSO . . . SOPHOMORES & JUNIORS CAN REGISTER FOR A CHANCE TO WIN A $40,000 SCHOLARSHIP AND A $5000 TECH PACKAGE! BE SURE TO "OPT IN" FOR THE SCHOLARSHIP GIVEAWAY WHEN PROMPTED DURING REGISTRATION!

COMMUNITY DINNER
THE COMMUNITY APPRECIATION DAY IS SCHEDULED FOR APRIL 12TH ON THE HIGH SCHOOL CAMPUS. STUDENT/STAFF VOLUNTEERS WILL BE NEEDED AND PLANNING SESSIONS WILL OCCUR AFTER THE HOLIDAY BREAK. IF YOU HAVE ANY QUESTIONS PLEASE CONTACT MRS. MOBLEY OR MRS. ROWE.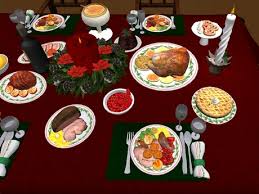 Senior Information
Below are the important senior dates for this year.
11/1 - Senior composite pictures
11/2 - Jostens informational meeting about cap and gown orders, Commons, 8 a.m.
11/13 - Cap-Gown order day, Commons, over lunch
12/13 - Senior Composite Retake
5/1 & 5/2 - Senior Finals
5/5 - 6 pm, Baccalaureate hosted by FBC
5/6 & 5/7 - Senior Checkout
5/7 - Last day in class
5/7 - Senior Stroll
5/9 - NHS Induction 6:00/Senior Awards 7:00
5/10 - Graduation Practice, H.S. Gym, 9 a.m.
5/10 - Graduation 7:00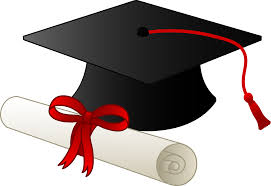 Health Services
This is a reminder student should not be sent to school sick. They are unable to learn well when they are feeling ill. If your child has a temperature of a 100 degrees or greater, vomiting, or diarrhea, he/she should stay at home until these symptoms have not occurred for 24 hours or otherwise approved by the school nurse.
A student who becomes ill or needs medical attention must report to the nurse's office for evaluation. If necessary, parents will be contacted and will be responsible for transportation if the student is sent home. STUDENTS WILL NOT BE ALLOWED TO LEAVE SCHOOL FOR AN ILLNESS UNLESS THEY HAVE VISITED THE NURSE'S OFFICE. Once it has been determined that a student needs to leave for medical reasons, they must sign out at that time in the office.
Parents and students, please help us with this task. We are not able to help students medically if the nurse is unaware of the medical situation at hand. Please talk with the nurse prior to coming to pick up your student.
REMEMBER....
If you are unable to have your sick child seen by your Primary Physician please remember the Cox Virtual Clinic that we now offer at the Aurora Schools. Cox hours currently are 8am-12pm. Below is an attached flyer with more information.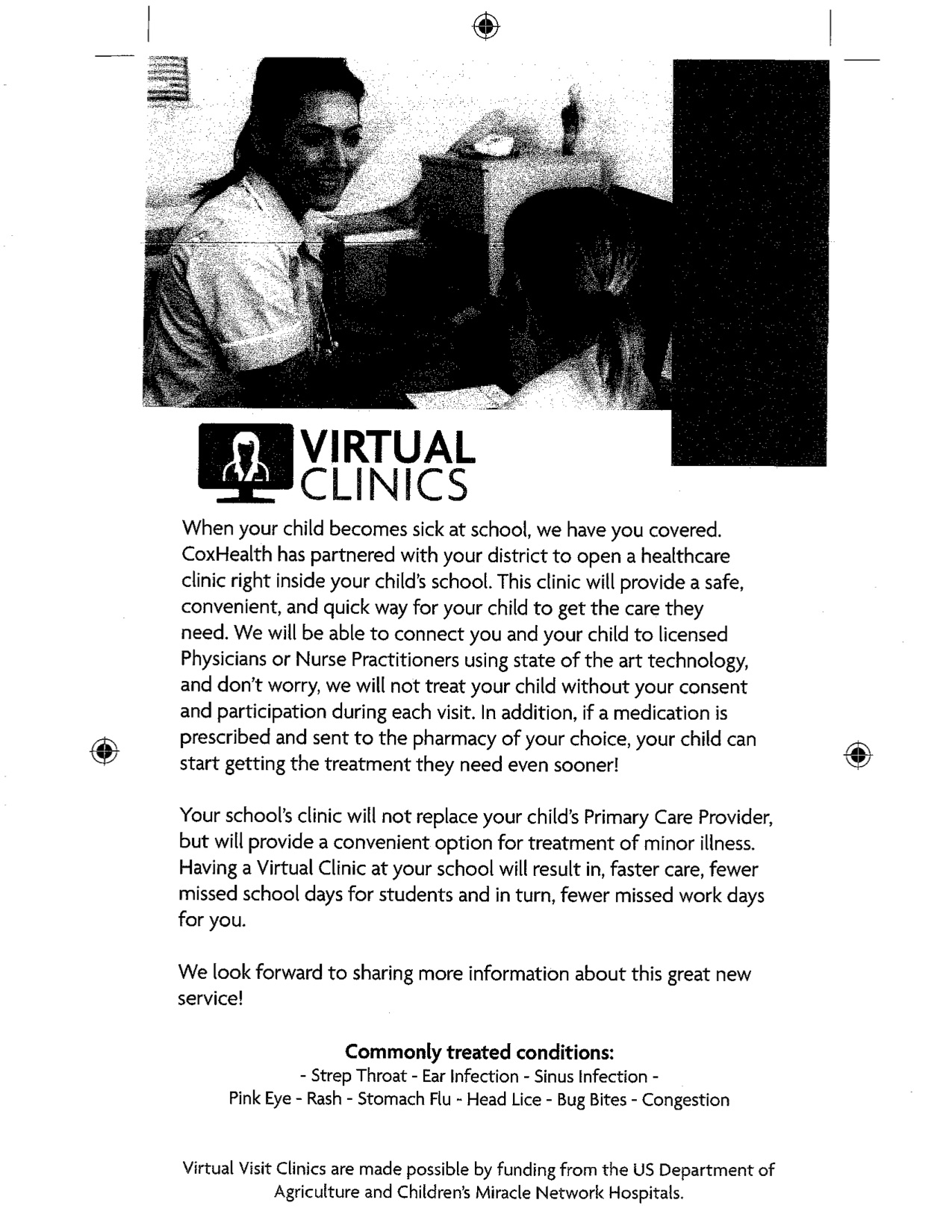 Students: second chance breakfast
This is just a reminder that breakfast is free; however, "Second Chance Breakfast" is only for you to get if you missed first breakfast. If you get more than one breakfast, your account will be charged.
Click on this link to access the lunch menu.
Reminder: If your lunch balance falls below -$10.00 (negative ten dollars), your lunch account will have a block placed on it, and you will receive a sack lunch--this includes a sandwich, fruit, and milk--from the the cafeteria until your account is paid. If you have any questions, please feel free to contact Amy in the high school office, or you can email her at amyjones@aurorar8.org
Trauma-Informed Schools
This link includes information, links, and phone numbers for numerous agencies to assist students, parents, community members, and staff.
Counseling Office Announcements
Here's how to do an ONLINE (SELF) REFERRAL (which basically means you want to "sign up" to see one of the Counselors):
1)go to the school website www.aurorar8.org
2)click on the "sites" tab at the top, then click on "Aurora High School". You are now on the AHS page of the website.
3)click on "menu" and click on "counseling" and then "support".
4)click on "student self – referral form" and complete the form.
5)submit form
This will put you in a "queue" to the Counselors and you will be called in . . . at a time that is convenient for both you and the Counselor in approximately the order in which you made the request. The more you can tell the Counselors in the referral, the better they will be prepared for your visit.
The "regular" application window to apply to SRTC for the 2019-20 school year has closed. Any students still wanting to be considered as a late applicant should use the link attached below. Interviews will begin soon.
https://www.surveymonkey.com/r/SRTCLateApp
Cox Medical Explorers offers young adults (ages 15-20) an opportunity to see if a career in health care is right for them - and registration for the next chance to participate is currently underway. Applications will be accepted for the upcoming session through March 29th at 4:00 p.m. The next registration period will begin this Summer. If you're interested go to https://www.coxhealth.com/schools-education/medica... or you can pick up additional information in the Counselor's Office.
The Workforce Investment Board of Southwest Missouri, in partnership with Crowder College and the Missouri Homebuilders Association are planning an event called "Build My Future in Southwest Missouri". This event is being planned for April 11, 2019 at the Newton County Fairgrounds.
This event will be similar to other Build My Future events you may have heard about, but will be unique to the far Southwest corner of our state. It will include demonstrations and hands-on learning opportunities from local employers in a variety of building-trades careers. This will be a free event for schools/students and is geared for high-school juniors and seniors, who will be able to check out and explore the expo-style booths of employers from around our region.
If you have an interest in attending this event, please contact the Counselor's Office.
We (in the Counselor's Office) have been told about a revolutionary new private messaging & gaming app called BLUR has launched and they are giving away thousands of dollars in scholarships and prizes every day! You can begin winning scholarship money and prizes by downloading BLUR for the iPhone or Android by visiting www.theblurapp.com
As with any app, please use at your own risk and NEVER pay for someone to give or find scholarships for you! A great (free) scholarship search that we recommend is www.fastweb.com
Information about the following scholarships/essay contests/workshops /open houses are available in the Counselor's Office. Please make note of the upcoming deadlines!
Hospital Auxiliary - March 20th
Morris Memorial - March 20th
Lane Memorial - March 20th
Carr Memorial - March 20th
Stringer Memorial - March 20th
V.King Memorial - March 20th
E.Cook Memorial - March 21st
Houn' Dawg - March 27th
MO Society of Professional Engineers - March 29th
MIEF - March 31
Estep Memorial - 4/1
ACT Memorial - 4/1
Crowder Business Division - 4/1
Wolfe Memorial - 4/1
Aurora FFA Booster Club - 4/1
AOPA - 4/2
Mais Memorial -4/6
Armstrong Memorial - 4/9
Lewis Memorial - 4/11
Aurora Athletic Booster Club - 4/12
Ritchie Meredith Memorial - 4/12
Jay Lewis Memorial - 4/12
Welch Memorial - 4/12
Lee Memorial - 4/16
Information about the following summer programs are available in the Counselor's Office. Most of these are available to underclassmen. Please make note of the upcoming deadlines!
Cox Medical Explorers (Spring Session) - March 29th
Missouri Youth Leadership Forum (ages 16-21) - March 31st
The following representatives have visits to AHS scheduled (as of now . . . more to come!
Navy - 3/20
OTC - 4/9



UPCOMING EVENTS CALENDAR
Friday, March 15th
FFA Linn Career Development Event 6am
Baseball @ Bolivar 3pm & 5pm
Saturday, March 16th
FFA Marshfield Career Development Event 6am
Monday, March 18th
Parent/Teacher Conference 3:30-6:30pm
Amp Up Training During Homeroom
Baseball @ Bolivar 12pm
Tuesday, March 19th
Parent/Teacher Conference 3:30 - 6:30pm
FFA Area Contests Sarcoxie 4:30pm
Amp Up Training During Homeroom
Baseball @ Clever 7pm
Wednesday, March 20th
Drumline Auditions 5-6pm
Amp Up Day During Homeroom
Thursday, March 21st
FFA Crowder College Career Development Event 7am - 6pm
Science Night 6pm - Midnight
Baseball @ Clever
Tuesday, March 26th
Sarcoxie Ag Mechanics Workshop 4:30pm
Wednesday, March 27th
FFA North Shelby CDE
AMP Conferencing

Thursday, Match 28th
Baseball @ Home vs Branson 4:30pm

Friday, March 29th
Baseball @ Carthage 4:30pm

Saturday, March 30th
FFA Skyline Career Development Event 6am
Business Expo - Commons Area 8am-4pm
Prom 7pm
Baseball @ Aurora vs Neosho 10am