News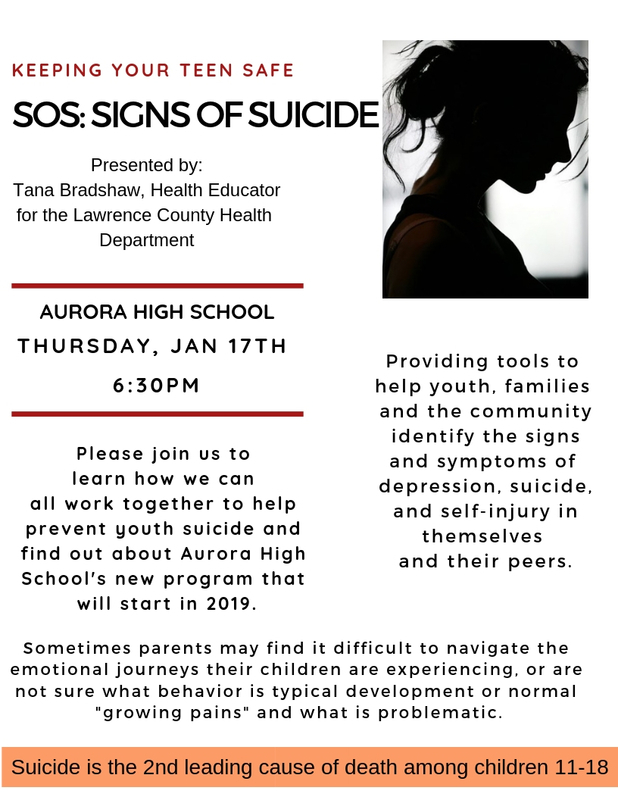 Aurora High School and the Lawrence County Health Department will be presenting SOS on Thursday, January 17 beginning at 6:30 p.m. in the Library Media Center. Powerful inform...
December Staff Member Winner: Mindy Wagner (Elementary Administrative Assistant)-$50 from Pettit Law Office. Congratulations Mindy and thanks to the sponsors of the program.
December Teacher Winner: Melissa Fieker (Intermediate Special Education)-Jimmy Michel Motors Monthly Car Program. Congratulations Melissa and thanks to the sponsors of the pro...
SEE ALL NEWS
LIVE FEED
Kimberly Yeary
4 days ago
8th Grade Boys Basketball Game - TONIGHT - HAS CHANGED LOCATION - 5:30 @ the High School Gymnasium. 7th Grade will still play at Pate.

David Mais
9 days ago
In accordance with the Every Student Succeeds Act of 2015, David Mais (Assistant Superintendent) has been designated as the Foster Care Liaison for the district. Please call 417-678-3373 if you should have any questions regarding the foster care enrollment process.

Billy Redus
18 days ago
School is scheduled to be back in session for the second semester on Thursday, January 3, 2019. Possible snow and ice is predicted in the forecast which may affect this start date. Please watch the district website and Facebook regarding our return to school.

David Mais
about 1 month ago
MAP score results for the 2017-2018 school year were mailed home Monday, December 17th, for students in grades 3rd-8th. Please contact your child's office if you have questions. Make it a great day!

Billy Redus
about 1 month ago
The 6th Annual Holiday Showcase, sponsored by the A-Tech I Class at Aurora High School will be tonight from 5 p.m. to 7 p.m. in the commons at AHS. There will be tables of handmade crafts designed and created by students at Aurora High School.
SEE ALL POSTS