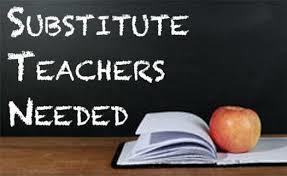 Substitute Teachers Needed for the 2020-2021 School Year
Billy Redus
Thursday, September 03, 2020
The Aurora R-VIII School District is actively seeking substitute teachers for the 2020-2021 school year. Pay for a full-day substitute is $100. The rate for Retired Aurora R-VIII educators is $110. Applicants with 60 college hours, a substitute teaching certificate issued by the Department of Elementary and Secondary Education (DESE) and a clean background check are eligible to be employed. DESE has also opened an additional avenue to obtain substitute certification. Information regarding these changes are listed below. Please call the Central Office at 678-3373 is you have additional questions.
Link to the DESE Substitute Page
https://dese.mo.gov/educator-q...

A Content Substitute certificate is for individuals wishing to substitute teach in the K-12 classroom setting (elementary, middle/high school content areas, special education, art, music, PE, etc.). A Content Substitute certificate may be granted to an individual who has completed a minimum of 60 semester hours of credit from a regionally accredited, academic degree-granting, college or university. Verification of these hours must be provided with an original transcript from each institution the applicant has attended. A Content Substitute certificate may also be granted to an individual who is at least 21 years of age, has a high school diploma, General Education Diploma (GED) or High School Equivalency Test (HiSET) and has successfully completed a minimum of twenty (20) clock hours of department-approved substitute teacher training that includes professionalism, honoring diversity, engaging students, foundational classroom management techniques, basic instructional strategies, supporting students with special needs, and working with at-risk youth. Approved training is available here: